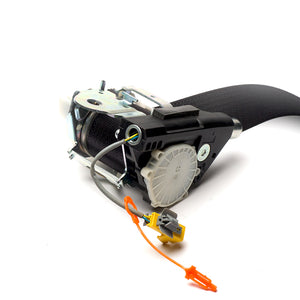 Locked Seat Belts After Accident
Seat belts that are locked after accident can now be repaired! We offer a 24 hour turnaround service, rebuilding your pretensioner to work like new. If your airbag light is on, it will be reset and you can be safe again. So how does this happen and what do we do? Simple. Seat belts are designed with a locking mechanism that is also triggered to lock by a pyrotechnic gas charge inflator, that once is off will not work again. Think of it as a one-time use. The good news is that the entire mechanism of the seat belt assembly is salvageable and tossing it is certainly a waste. We help recycle these locked seat belts by rebuilding them back to factory condition and helping you save money! 
The Gas Charge Inflator
A little bullet lives inside seat belt retractors, pretensioners & buckles. These things are actual gas charge inflators that are triggered by crash sensors and controlled by the SRS airbag module computer. While your airbags are the primary components that the airbag system is responsible for, the seat belts go hand in hand. The gas charge inflator happens to be a very similar one as to the ones found in airbags. Powder that is rapidly set off makes this the ideal choice for such device.
Apart from the main seat belt assembly retractor, known as the male part with the latch, we also have the buckle pretensioner. The female part that you buckle into. Well, some of these have a gas charge in them that goes off as well. This serves as a secondary tensioner to the main seat belt and looks like this:
Of course we can repair these as well! 
Crashed, Salvage Cars
Most cars that are crashed or ended up at salvage auctions such as Copart & IAAI, will have the airbags deployed and seat belts locked. While the airbags need to be replaced, we are able to reset the SRS unit and repair the locked and blown seat belts. We are an ideal solution to shops and independent rebuilders, saving you a ton of time and money. 
---