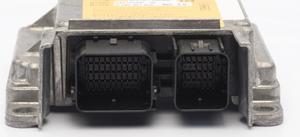 Airbag Module Reset Service
It may be easy to ignore any lit lights on your dashboard, because there is so much going on. However, if your air bag light is on, it should not be ignored. It can be an indication that something serious may be wrong with your Supplemental Restraint Systems airbags. When the car is in an accident, the Airbag Module determines whether or not the airbags need to deploy and if the seat belt pretensioners need to lock. If your airbag module is not working properly, there is a risk that the air bags will not deploy if you are in an accident. Always check the car system for fault codes in case your airbag light is lit.

The light looks different in various cars. It may say Air Bag, SRS, "air bag deactivated" or "air bag off". Whenever you have an airbag code related to the airbag's deployment, you will always need your SRS Airbag Module Reset. You can buy a new airbag module but that could cost hundreds of dollars with the dealer. There is also an option of getting a used airbag module which is cheaper but the module will still need to be re-programmed. When a different module is installed in your vehicle, used or new, you will need to program it to your VIN. This can be a lengthy and difficult process.

Instead, you can have get the SRS Airbag Module Reset. The company Safety Restore specializes in this, and is trusted by thousands of customers. Safety Restore offers a 24 hour repair time, getting you back on the road quickly and safely. They also offer a lifetime warranty and a 100% satisfaction guarantee! Not only does Safety Restore save you time, they can save you hundreds of dollars as well. Visit SafetyRestore.com to learn more about their Airbag Module Reset Service along with other great services they provide.
---